Winning Your Boyfriend Back When He's Already Started Dating
So you break up, you're trying to fix things, and then suddenly you get word of it... your ex boyfriend is dating someone else!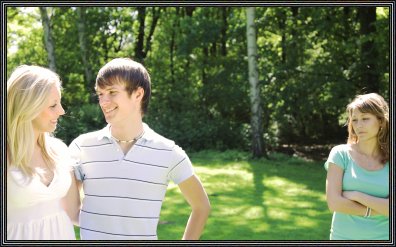 Your heart sinks. Your arms feel like they weigh a thousand pounds. It's all over... there's no way to get your boyfriend back - not while he's seeing another girl.
Or is there?
Winning your ex's heart always requires the same things, even when it looks like he moved on. If you still feel a connection, and you're pretty sure he still has love for you, there are some simple things you can do that will help put you back in his arms.
Because he's now with someone else these things might require a little more patience and some exact timing, but in essence, making your boyfriend want you back is all about creating a need for you - and your past relationship - in his life again.
What To Do When You First Hear The News
It was the worst possible news in the whole world:
"My ex has a new girlfriend!"
Nothing hurts more than losing someone you were trying to get back, and then having to watch them date someone else. The very second you learn of your ex boyfriend's new love interest, you need to grab onto the nearest friends and family for support.
Go out, and try to occupy yourself with anything and everything else... and leave your cellphone at home. You want to get your mind as far as possible from thoughts of your ex boyfriend, so you don't obsess over the fact that he's moved on. And hey, guess what? Chances are he hasn't. It's a pretty safe bet that if you broke up fairly recently, your ex is involved in nothing more than a rebound relationship.
Stopping Your Ex From Dating Another Girl
Unfortunately, there's nothing you can do about it when your ex moves on with someone else. You cannot confront your ex boyfriend about his new relationship, and doing this is going to make you look extremely desperate. You obviously shouldn't run off to "face" the other woman, either. Don't call him, text him, or talk smack about his new girlfriend... even to your friends. If word gets back to him that you're jealous, it's going to blow things for you. Try to think of the future: when you'll one day get back together with your boyfriend. Instead of concentrating on the things you can't control, you'll need to spend the next few weeks working on the things you can.
The Good News About Your Ex Dating Another Girl
Yes, that's right. There's actually some good news. First, the fact that your ex chose to start a new relationship before yours had grown cold means that he didn't get to process the break up. He took the feelings and emotions he had for you, and he buried them quickly in order to move on.
While this may be small consolation to you right now, it means that those feelings are still there. On many levels your boyfriend still loves you, and you'll eventually be able to look for signs your ex wants you back. But for now? Those feelings will need to stay buried while you ride out the happy, honeymoon stages of your exboyfriend's new romance.
Know however, that because your ex put his emotions to the side rather than deal with them? They're going to be a lot easier to bring to the surface later on, when you're ready to get back your ex boyfriend.
There are also techniques to draw his feelings out into the open. Learning how to do this effectively can make the difference between an ex boyfriend who totally ignores you, or one who just can't get you out of his mind.
Another quick piece of good news: most rebound relationships fall miserably apart rather quickly. If your ex's budding new romance makes it past the five or six week mark, that's going to be a LOT. Most of these quickly-established romances end before two months is out, leaving your ex vulnerable and in a position where he'll be looking for something safe and familiar: you. It's your goal right now to remain a silent observer, and eventually, you'll become a neutral ally.
Establishing Your Own Life While Your Ex is Dating
Few things are more unattractive to a guy than seeing a girl who's waiting around for them. While you might think this is a good idea, and that he'll somehow appreciate your loyalty, once your exboyfriend sees that you haven't moved a single step from the spot he left you? He's going to lose a certain measure of respect for you.
Going on with life is the best thing you can do. You can't sit around feeling sorry for yourself and telling everyone that my ex has a new girlfriend. Instead, you should be getting out more than ever and having the most fun possible. Don't intentionally rock the places where you know your ex hangs out (blatant flaunting can be interpreted as neediness), but do it out in the open where your ex will eventually get wind of it. And if you want to date other guys? Go for it. Sometimes jealousy can really bring back the initial sparks the two of you had for each other, and as your exboyfriend starts realizing he might lose you to someone else, it may wake him up quickly. Obviously you shouldn't be going out with the first guy you see just to make your boyfriend jealous... but if he gets upset seeing that you started dating again it should be a fortunate byproduct of you having your own life.
Learn to spot the signs that your ex boyfriend still loves you, to know when your efforts are working.
Secretly Reconnecting With Your Ex Boyfriend
After a while, the fresh new luster of your ex's new relationship will have worn off. He and she will have had their first fight, their second, and probably their third... maybe even their first big blowout.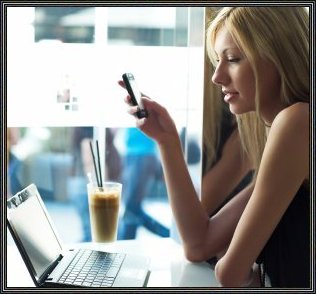 This is exactly when you want to re-establish a connection with your ex boyfriend again. You'll need to do it silently, without his new girlfriend seeing. The best way is through email. Shoot your ex a quick joke or funny photo someone sent you, to make him laugh. Then follow it up with a quick message: "Hey, how've you been?"
When your ex boyfriend answers the response will be favorable. He's going to feel safe in talking to you, because you've left him (and his new girlfriend) alone for the last several weeks. It will also feel good to hear from you again, because talking to you will be like a breath of fresh air blown into the increasingly stale relationship he's currently involved in.
You always want to make contact with your ex during a downswing in his romance. Depending upon how closely you travel in the same social circles, this might not be something you'll know about... but still, try to do your best.
From here, you and your ex will likely become secret little pen-pals. Don't ask him about his girlfriend - instead, ask him about life, school, work, family, etc... He'll eventually tell you about his new love interest. When he does, act cool about it. Don't be overly (annoyingly) excited for him, but don't put her down in any way, shape, or form. You want to earn your exboyfriend's trust here. Over time, he'll confide in you again. You already have a strong connection. Think of it this way: just because my ex has a new girlfriend doesn't mean she'll be around forever. Before rushing off to ask yourself "how can I get him back?" you should first be taking a step-by-step approach, to maximize the chances for success.
Your Next Steps For Winning Your Ex Back
Stealing your ex back from another girl is tricky, but becomes a lot easier when the feelings are still there. Eventually, he'll start giving out signals that should act as green lights, telling you when it's time to proceed.
In some cases your ex may even dump his new girlfriend outright, as his rebound relationship flies apart at the seams. When this happens you'll need to be there for him; meaning you have from now until then to get into just the right position.
Check out these reversal techniques guaranteed to get your ex thinking about you again, regardless of the state of his current relationship. It's a good start on the road toward getting your boyfriend back.